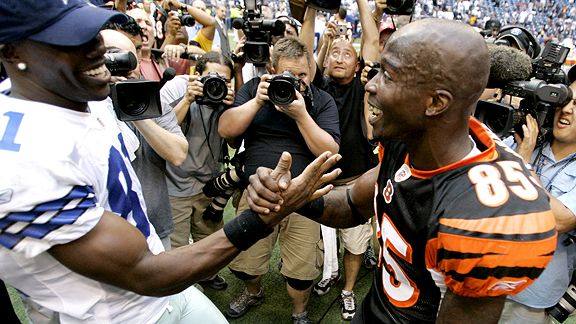 In the spirit of this summer of bringin big names together, Chad Ochocinco has indeed made "the Ultimate Catch", and no its not the fine Ms. Angela B nor the fake Tara on his Vh1 reality tv show. It is the biggest Diva of them all... Terrell Owens!
There have been confirmed reports that T.O. and the Bengals have signed a one year deal.
This move solidifies the Bengals' receiving corp arguably greater than the Chad Johnson/T.J. Houshmandzadeh (yes, I had to look up the spelling) duo of a couple years back. Bengals now have Chad, T.O., and Antonio Bryant (most underrated free agent wide out this summer in my opinion).
I personally think that Roger Goodell should lift the excessive celebration rule, solely for the wild touchdown dances these two clowns can come up with. $50 says they bust out the kid n play move before week 6. Thoughts?
"G"